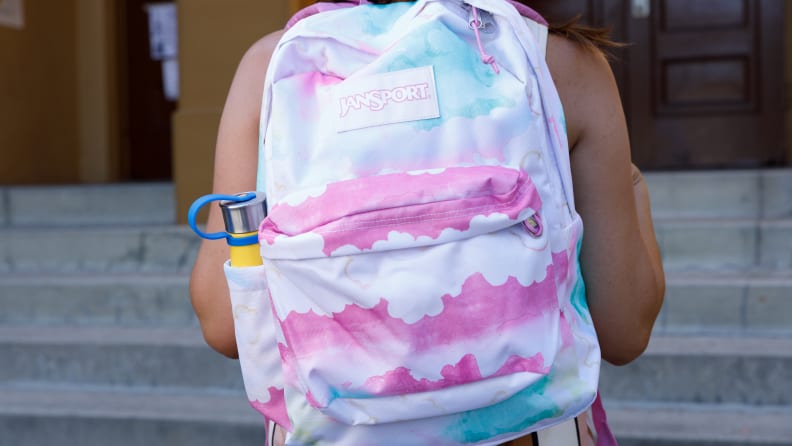 How we tested kids' backpacks
The tester
Hello, I'm Janelle Randazza, parenting writer at Reviewed, where I test, edit, and write about all things kids and parents. I'm also guilty of destroying more backpacks than anyone thought humanly possible in my childhood. I'm pretty sure my child is my clone (at least as far as his flair for unintentional destruction goes), so I'd better find a sturdy backpack that will last him for years. With the school year approaching and my son entering 2nd grade, it's time to upgrade his backpack to one that will last the next few years of elementary school.
He is a difficult child and I am a difficult mother. It was our quest to find the perfect backpack that appealed to my desire for durability and her hopes of finding a bag that looked cool and felt great while carrying it.
The tests
Our testing focused on durability, capacity, fit, comfort and growth potential with the child.
Our durability tests focused on strength and abrasion resistance. We tested both by stuffing each backpack to a reasonable weight and overcapacity, and tossing them multiple times down a nine-step flight of stairs that landed on a rough concrete walkway. The test was designed to mimic a bag tossed across playgrounds and repeatedly dropped onto the side of chairs throughout the school year.
We also tested fit and comfort on children ages 5-12, analyzing the amount of padding in the shoulder straps and on the back, as well as ergonomic features such as contours, adjustment options and l effectiveness of chest straps, if applicable.
What to consider when buying children's backpacks
Turns out, there are a lot of things to consider when buying a kids' backpack, especially if you want it to last more than one school year. We asked a group of around 20 parents of children aged 5-12 what they look for when buying a kids school backpack and what ends up being a source of frustration once they have time to sit with them for a while. Here's what they told us to look for:
Construction
Not all children's backpacks are created equal. Many are just smaller versions of adult backpacks, and they don't take into account a child's body and how kids will be able to handle the weight of a full backpack. Our big winner, the Pottery Barn MacKenzie, has an ergonomic design made for a child.
If you're worried about weight, look for bags with contoured, padded shoulder straps, sternum straps, and a back padding element. We've noted when the bags have really kid-specific ergonomic designs in the pros and cons sections of each review.
Water bottle holders
Time and again, parents surveyed expressed frustration with water bottle pockets. Above all, these holders must accommodate bottles of all sizes. Restrictive bottle pockets that could only accommodate 8-ounce bottles are a constant source of frustration, and for many parents, this ends up being an insurmountable problem when kids enter 2nd or 3rd grade. If you want your child's bag to grow with them, they need to be able to carry a bottle that matches their growing needs.
They also warned to look for bottle carriers that don't tear over time, as is the case with many full mesh bottle carriers. In the rating, we favored bottle holders that were either canvas or with a canvas and mesh combo that seemed to thoughtfully support bottles without tearing them.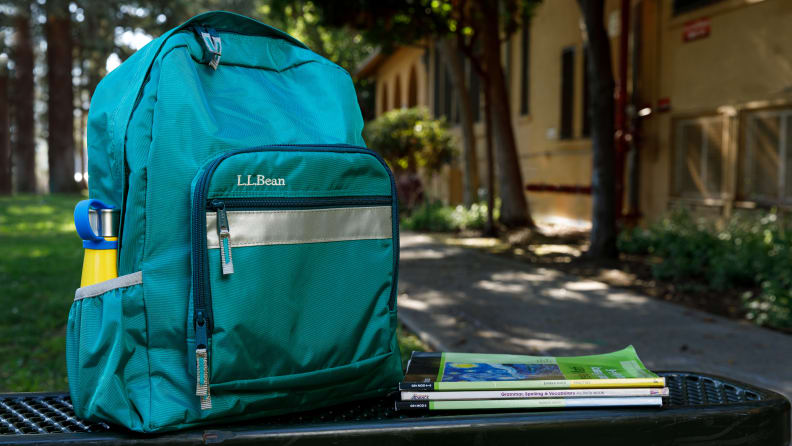 Ease of cleaning
Surprisingly, there are very few kids' backpacks on the market that are designed to be machine washable. That being said, most of the backpacks we tried that specified they should only be cleaned in place actually held up well in the wash. The manufacturers, however, have informed us that while many of their backpacks can withstand a gentle wash cycle, their colors are not guaranteed to bleed and the protective weather-resistant coating may wear off. . If you need a backpack that will stand up to monthly (or weekly) machine washes, be sure to keep an eye out for the top picks rated as "machine washable" listed as "pro" in each review.
Organization
Teaching a young child to be organized is not an easy task. When rating, we favored bags with smart organizational features, including internal slip pockets or smaller, easy-to-access pockets. Similarly, we looked for bags that knew not to overdo the pocket department. When it comes to pockets, we've found that more and bigger definitely doesn't mean better. Keep in mind that too many pockets, especially when some are too deep, can lead to the loss of papers, clearance slips and sometimes food. We looked for backpacks that had a logical number of pockets and pouches that could help a child stay organized, and not defeat them by having too many places for important items to disappear.
---
Other kids' backpacks we've tested
More Articles You Might Enjoy
Verification of our work.
Our team is here for one purpose: to help you buy the best things and love what you own. Our writers, editors, and lab technicians obsess over the products we cover to make sure you're confident and satisfied. Have a different opinion on something we recommend? Email us and we'll compare the notes.
Email us