The arrival of a new low-cost airline and pent-up demand after the pandemic could lead to a highly competitive airline market.
The latest Airline Competition in Australia report from the Australian Competition and Consumer Commission (ACCC) indicates that an increase in flight paths from established carriers and greater competition on economy flights means cheaper air fares for domestic travel this year.
According to the report, new 'ultra-low-cost' airline Bonza is set to enter the domestic travel market from mid-2022 and will fly 25 routes connecting 16 destinations across Queensland, New South Wales and Victoria.
Bonza aims to fill a gap in the domestic air transport market, with 80% of its initial route network not currently offered by any airline.
Bonza will directly connect residents of Melbourne and other Victorian cities to destinations such as the Sunshine Coast, the Whitsundays and Mackay.
ACCC Chairman Rod Sims said the watchdog will monitor how existing airlines respond to this new competition.
"We will keep an eye out for any capacity increases or anti-competitive pricing practices," Mr Sims said.
"We will pay particular attention to legacy airlines entering any of the new routes announced by Bonza."
Report shows wanderlust
The quarterly report showed planned capacity hit 95% of pre-pandemic levels over Christmas week, but within days airlines were forced to cancel hundreds of flights as passengers and airline staff have self-isolated.
The report says there are positive signs that demand is beginning to pick up after Omicron's January spike.
Airlines are citing early bookings for the Easter holiday period, and Qantas Group has planned a return to pre-pandemic domestic flights between April and June.
New routes, more competition
The report says many consumers already have more choice due to Rex's expansion into intercity routes and Virgin's return to some routes it previously left.
There are now nine routes in Australia served by the three airline groups: Qantas, Virgin and Rex.
"Australia's domestic airline industry has been largely a duopoly since deregulation 30 years ago, but we now have three airline groups competing on some of Australia's busiest routes," said Mr Sims. .
"We have seen significant price reductions on these routes due to increased competition.
"Every airline is working hard to win over consumers and as they continue to fight for market share, we can expect competitive airfares, improved connectivity and better products and services."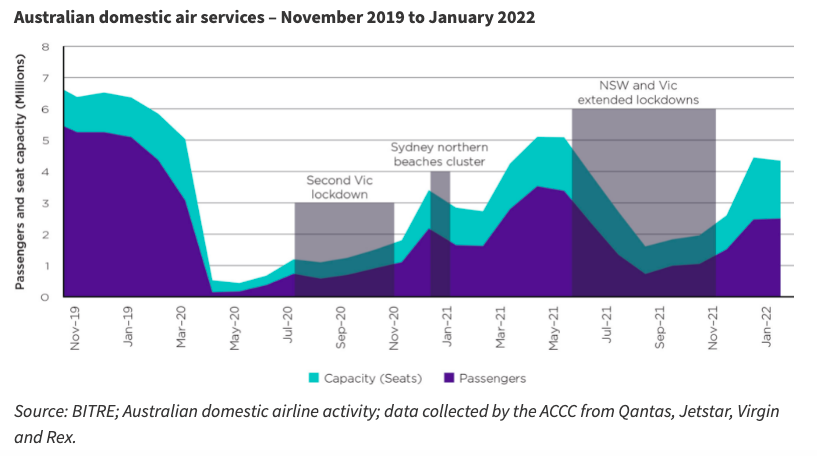 Gas prices may pose a threat to cheaper air fares
The report indicates that kerosene and labor are the two main cost drivers for airlines.
Jet fuel prices were generally low during the pandemic, but hit an eight-year high in February and have since risen again.
However, the report says airlines have cut costs by reducing their workforce and renegotiating more favorable aircraft lease terms and rethinking product offerings.
---
Image by Ross Parmly via Unsplash